To make our Chai Spiced Cupcake, all you need is the Chai Baking Spice. Our Chai Baking Spice is a blend of 6 glorious chai spices to infuse in your baked goodies. Try our cupcake and frosting recipe below for an amazing chai spiced cupcake or add it to your own favorite baked good recipe.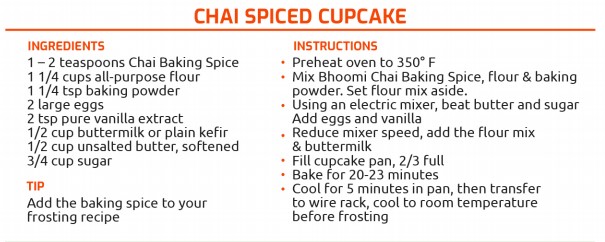 CHAI SPICED FROSTING
INGREDIENTS:
1/2 Teaspoon Chai Baking Spice
1 cup butter (softened)
3 - 4 cups powdered sugar (sifted)
1 tablespoon vanilla
Pinch salt
2-3 tablespoons heavy whipping cream
INSTRUCTIONS
- Beat butter with a mixer - hand or stand - on medium for 2-3 minutes.
- Add 3 cups of the powdered sugar 1/2 a cup at a time, and beat until well-combined.
- Add 1/2 Teaspoon of Chai Baking Spice
- Add vanilla and a pinch of salt and beat until well-combined.
- Add 2 tablespoons cream and beat until combined.
- If necessary, continue adding powdered sugar 1/4 cup at a time or cream 1 teaspoon at a time until you reach desired consistency.
- Frost your Chai Spiced Cupcake and Enjoy!